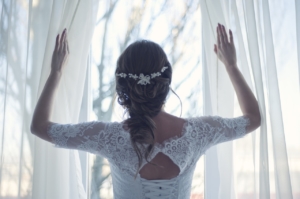 Candid Photography is defined as natural and "unposed" photography. It usually means that at the very moment of the photograph being taken it is a surprise and it is shot without disturbing the subject.
The characteristic of such photography is always natural without any posing. It can also be a shot in motion. For example of a performing artist at a concert or a participant at a sports event.
However in general it means that the subject could be aware that a photographer is around of course. That implies that candid photography can happen with consent. It does not suggest that the subject is entirely unaware of the situation.
In comparison: Traditional wedding photography focuses primarily on portrait or pre-meditated shoots. The scene and subjects would be "setup" to achieve best possible results regarding for example light & location.
In candid photography this is not an option. One must essentially look out for opportunities during the event ready to take shots at any given time.
While candid photography has gained significantly over the last years a good photographer will always have an eye for a good mix between the two different styles.
Previous Experience
Experience and skill are important factors. An excellent photographer must be able to find fresh angles and explore perspective instead of sticking to the same fixed position all the time. Otherwise that will ultimately result in the same images. This is true especially for weddings and candid wedding photography.
Candid photography has a lot to do with personality, nature and dynamic of the photographer. As a general tip always make sure to meet your photographer well in advance. Get a feel for his or her personality and style. It also gives the photographer a chance to get to know you better and understand what you
are looking for and who is part of "the gang" on your special day and what to watch out for in general.
Time Well Invested
Some of the best candid photography is possible because of that little bit of meeting ("bonding") time with the photographer. Overall people skills and knowledge of the day will be crucial for this.
Occasionally a mix of both can require two photographers on the day that can take shots from different angles and complement each other. If that is something that you would be looking for then get in touch with us today!
This website is listed in the County Cork Photographers Directory